For those nerds out there reading this article I need you to know something. Researching this blog post and learning about these women felt like this scene from Avenger's Endgame.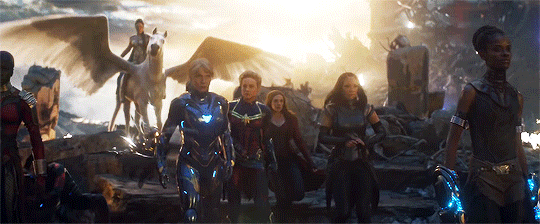 If you don't already know, September 15th officially kicked off Hispanic Heritage Month in the US. Not only is this a time for celebration, recognition, and education – it's also a specific and special time to highlight inclusion.
Today I am beyond excited (like girl-gang, Rosie the Riveter, women straightening other women's crowns excited) to highlight women in the Latina community who are the next generation of leaders.
The heroes of this story:

Edaena Salinas

Software Engineer at Microsoft, Executive Producer of The Women in Tech Show, and Executive Producer of The 5-Minute Mentor Podcast

Watch TECHNOLOchicas interview with Edaena about how she got started, her role at Microsoft, and what motivates her.

Linkedin | @edaenas @techwomenshow @Microsoft

Rocío Medina van Nierop

Cofounder & Executive Director at Latinas in Tech, public speaker, activist and advocate for diversity and inclusion

Listen to Rocío and another one of our features (Carolina Huaranca Mendoza) on this Tech Inclusion Panel Discussion on impact and leadership, by Google for Entrepreneurs.

Linkedin | @latinas_tech


Johanna Figueira

Marketing at Wells Fargo | Code for Venezuela

Listen to Johanna's TED Talk, simple, effective tech to connect communities in crisis, where she discusses her work with Code for Venezuela — a platform that gathers technologists to address Venezuela's needs for information and medical supplies — and shares ideas for how it could be used as a model to help other communities in need.

Linkedin
Evelyn R. Miralles
Associate Vice President for Strategic Information Initiatives and Technology, UHCL. Former NASA Chief Engineer, BBC 100 Women World, 2xCNET, Speaker, and Consultant

Nerding out over human space exploration? Check out Evelyn's Videocast "Why Human Space Exploration is important for Sustainable Living on Earth" with retired astronaut, educator, geologist Dorothy Lindenburger.
Carolina Huaranca Mendoza

Advisor at Kapor Capital, Board Member at Latinas in Tech

Carolina has been recognized by Hispanics in Philanthropy (HIP) as a Latino Leader and a Cosmo Latina Fun, and Fearless Award Winner alongside Jessica Alba. She has also been featured in TechCrunch, CNN Money, Univision, SF Chronicle, USA Today, and Latina Magazine. Learn more about her role as a Venture Capitalist in this video by Voice Latina!
Lisa Morales-Hellebo

Co-Founder & GP at REFASHIOND Ventures

Take a look at Lisa's recent interview with Entrepreneur.com, Catching up With Supply Chain Expert and Disrupter Lisa Morales-Hellebo, about how she is dedicated to fixing the fashion industry's supply chain problems.
Linkedin | @lisahellebo @REFASHIOND
Jennifer Arguello
Senior Product Manager on Work.com at Salesforce. Previously at Github, Kapor Center for Social Impact, Google, Latino2, Mozilla, and Microsoft.
Listen to Jennifer talk at the SheCodes Conference about the importance of little girls learning to code, how being a geek is the best thing that ever happened to her, and how telling girls "YOU GOT THIS" makes a difference.
Christina (Diaz) Hernandez

Mars2020 PIXL Instrument Engineer, NASA
Christina was recently interviewed in the NASA News. Check out the full interview here: My Culture, My Voice.

Linkedin | @estrellasycafe @NASAPersevere
Selene Mota

Scientist and interdisciplinary explorer of emotion recognition and personalized machine learning, Samsung
"I think we have a lot to offer not only as Latinas but also as women in technology," said Selene. "I think that we can offer new ways of seeing problems, new ways of solving a problem. It's just very important that you follow your passion and enjoy what you do."
Pilar Manchon

Senior Director of Research Strategy @GoogleAI, Board Member at Latinas in Tech and the Artificial Intelligence Advisory Board with the Government of Spain.

Last year Pilar was named one of the Top 100 Most Influential Hispanic Leaders in Tech in the US by HITEC.
Linkedin | @pilarmanchon @googleAI


Kety Esquivel

Senior Marketing & Communications Executive, Principle & Co-Founder of Esquival McCarson Consulting, TEDx Convener, and Published Author

Kety joined AnitaB.org last year, a nonprofit social enterprise inciting a movement to achieve 50/50 intersectional equity in the global technical workforce by 2025. AnitaB.org engages with tens of thousands of women to help advance their careers in technology and also works with leading organizations around the world. AnitaB.org/365 programs empower women and underrepresented communities in technical fields, guide the organizations that employ them, and support the academic institutions training the next generation.

Linkedin | @KetyE
Iliana Quinonez
Senior Director of Solutions Engineering & Latinoforce Advisor, Salesforce
Check out the Beyond Barriers Podcast, Episode 90: Celebrating Latinas In Tech with Salesforce's Iliana Quinonez
—–
If you're a hiring manager looking for women in tech we've got you covered. As a certified WBENC woman-owned business, we bridge the gap between talent and opportunity and we do it with a commitment to close the diversity gap in technology. Our talent database is 65% minority talent and our most recent class of graduates was 90%. We believe that providing individuals, especially those underrepresented in tech, with the necessary skills for becoming leaders in the digital workforce speeds progress towards diversity at the top.
If you're interested in breaking into the tech industry there has never been a better time. According to Code.org there are currently 666,534 open computing jobs nationwide while only 71,226 computer science students graduated into the workforce last year. Yet unemployment rates are at an all-time high. What does that mean? It means that there is a huge number of people out of work in parallel with a huge number of open roles in the market. We can help you cross the bridge. Learn more about our scholarship application.
Not seeing the name of someone that should be on this list? Tell us who we're missing!
Resources: